Meet Bruce Stobbe
Like a lot of children in Alberta, Bruce grew up on a family farm. Spending most of his time outside, Bruce grew to love the hands on approach to life, the tradition of agriculture and the great outdoors. Getting his first taste of the construction business right out of high school, Bruce worked for a couple years before heading off to university.
Working throughout the summers to support his studies, Bruce would graduate with a degree in history and anthropology. Continuing in the construction trade in the years following his degree, Bruce embarked on a new adventure – southern Japan.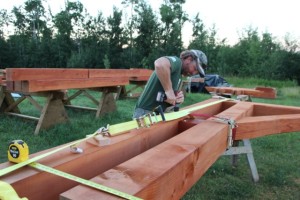 Landing in the southern prefecture of Fukuoka and ready to embark on a new adventure, Bruce would end up spending the next three years of his life teaching English and himself learning the customs and traditions of Japanese culture. This is where Bruce first fell in love with timber framing. The hands on craftsmanship of the timber frame grabbed the Alberta farm boy and wouldn't let go.
Returning to Alberta from Japan, Bruce would dive back into the construction trade working on many large projects in the Edmonton and surrounding areas over the next few years. Further developing his trade skill in the years following his Japanese adventure, Bruce would ultimately venture out on his own accord and bring that passion for timber framing to practice in the prairies.
Formed in 2014, the McLeod Creek Timber Framing Company combines the heritage of both the Alberta countryside and hand-crafted timber frame structures using traditional methods of mortise and tenon joinery. Striving to craft structures that enhance the lives and lifestyles of their owners, Bruce and McLeod Creek Timber Frame Company build structures with timeless beauty, ensuring that are healthy, comfortable and durable, while being responsible to both the global and local communities by striving for outstanding energy efficiency and environmental stewardship.